Some affiliate links appear in the post below, which means that I make a small commission off of the sale. Thanks so much for supporting My Favorite Adventure!
Hiya, everyone, and happy Friday! I'm not gonna lie, it was a rough week for me for multiple reasons. I'm glad that it's over and I have a weekend of relaxing ahead of me because homegirl NEEDS IT. I plan to do some organizing around the house to prepare for baby (my due date is a month away!) and then kick up my feet and do a whole lot of nothing. Well… maybe some reading. 😉
In September, I read 10 books, which is pretty standard for me. I haven't been making it as much of a priority lately, but I feel good about this number! I also didn't have a ton of winners in this batch, but there were a couple that I would highly recommend. I hope you add some of these to your list!
---
The Hideaway by Lauren K. Denton*
★★★☆☆ | Women's Fiction
"After her last remaining family member dies, Sara Jenkins goes home to The Hideaway, her grandmother Mags's ramshackle B&B in Sweet Bay, Alabama. She intends to quickly tie up loose ends then return to her busy life and thriving antique shop in New Orleans. Instead, she learns Mags has willed her The Hideaway and charged her with renovating it—no small task considering Mags's best friends, a motley crew of senior citizens, still live there. Sara discovers a box Mags left in the attic with clues to a life Sara never imagined for her grandmother. With help from Mags's friends, Sara begins to piece together the mysterious life of bravery, passion, and choices that changed Mags's destiny in both marvelous and devastating ways."
MY THOUGHTS: I don't normally gravitate toward women's fiction, but something about the description of this book just drew me in. I love books set in the American South and books that have a touch of romance, so that was probably it! Overall, I liked this book. It was a good break from heavier stuff and was nice to read at the end of the day just to wind down. It's your classic "everything is going well, then there's a wrench in the plans, but then everything works out perfectly in the end" book. And sometimes those are just fine!
---
How to Make a French Family by Samantha Verant*
★★★☆☆ | Memoir
"When Samantha is given a second chance at love at the age of forty, she moves to southwestern France, thinking she's prepared for her new role in life as an instant American wife and stepmom. It turns out, though, that making a French family takes more than just good intentions and a quick lesson in croissant-baking. Even while suffering from culture shock and struggling to communicate with and parent her ten-year-old stepson and thirteen-year-old stepdaughter in a culture drastically different from her own, Samantha is determined to adapt to her adopted homeland—because when love and a new life is on the line, giving up isn't an option."
MY THOUGHTS: A memoir set in France? Yes, please! For some reason, when I picked this book up, I had in my mind that this memoir would solely focus on parenting/family. Since I'm expecting my first baby, I was super excited about that! Once I started reading, I found out that it's not the case. This book is about family, but so much more than that. I loved reading Sam's stories. My biggest criticism is that the last handful of chapters feel very unedited – and not in a good way. They feel out of place and kind of random. Other than that, I really liked this book.
---
Orphan Number Eight by Kim van Alkemade
★★★★☆ | Historical Fiction (audiobook)
"In 1919, Rachel Rabinowitz is a vivacious four-year-old living with her family in a crowded tenement on New York City's Lower Eastside. When tragedy strikes, Rachel is separated from her brother Sam and sent to a Jewish orphanage where Dr. Mildred Solomon is conducting medical research. Subjected to X-ray treatments that leave her disfigured, Rachel suffers years of cruel harassment from the other orphans. But when she turns fifteen, she runs away to Colorado hoping to find the brother she lost and discovers a family she never knew she had.
Though Rachel believes she's shut out her painful childhood memories, years later she is confronted with her dark past when she becomes a nurse at Manhattan's Old Hebrews Home and her patient is none other than the elderly, cancer-stricken Dr. Solomon. Rachel becomes obsessed with making Dr. Solomon acknowledge, and pay for, her wrongdoing. But each passing hour Rachel spends with the old doctor reveal to Rachel the complexities of her own nature. She realizes that a person's fate—to be one who inflicts harm or one who heals—is not always set in stone."
MY THOUGHTS: I can't remember where I heard about this book, but I'm glad it came across my radar somehow! I wasn't expecting to like it as much as I did, but I was hooked the whole time. There was always something happening and a few plot twists that I didn't expect to keep my interest. It was the perfect combination for an audiobook. I recommend this to readers who are fans of historical fiction in general. It's a good one!
---
See What I Have Done by Sarah Schmidt*
★★☆☆☆ | Historical Fiction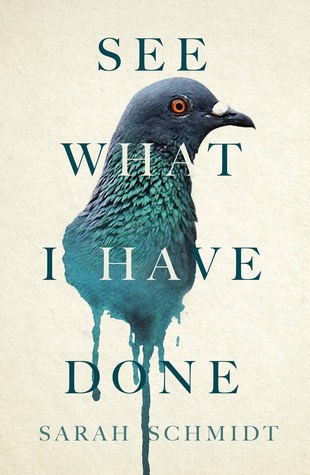 "On the morning of August 4, 1892, Lizzie Borden calls out to her maid: Someone's killed Father. The brutal ax-murder of Andrew and Abby Borden in their home in Fall River, Massachusetts, leaves little evidence and many unanswered questions. While neighbors struggle to understand why anyone would want to harm the respected Bordens, those close to the family have a different tale to tell—of a father with an explosive temper; a spiteful stepmother; and two spinster sisters, with a bond even stronger than blood, desperate for their independence."
MY THOUGHTS: The story of Lizzie Borden is definitely one that has fascinated me since I learned of it years and years ago, so I was really excited to get my hands on an advance copy of this book! The format was very interesting – each chapter is from a different perspective of someone affected by the murders. Most take place in a 3-day time period surrounding the day of the event, but the author also includes later dates with more information.
Overall, this book was okay. For the reasons stated above, I liked it. I feel like it could have been much shorter, though. I feel like it just dragged on and on and on and on and found myself skipping around throughout the last several chapters. It just wasn't enough to keep my attention.
---
Sons and Daughters of Ease and Plenty by Ramona Ausubel
★★☆☆☆ | Literary Fiction
"Labor Day, 1976, Martha's Vineyard. Summering at the family beach house along this moneyed coast of New England, Fern and Edgar—married with three children—are happily preparing for a family birthday celebration when they learn that the unimaginable has occurred: There is no more money. More specifically, there's no more money in the estate of Fern's recently deceased parents, which, as the sole source of Fern and Edgar's income, had allowed them to live this beautiful, comfortable life despite their professed anti-money ideals. Quickly, the once-charmed family unravels. In distress and confusion, Fern and Edgar are each tempted away on separate adventures: she on a road trip with a stranger, he on an ill-advised sailing voyage with another woman. The three children are left for days with no guardian whatsoever, in an improvised Neverland helmed by the tender, witty, and resourceful Cricket, age nine."
MY THOUGHTS: I heard this recommended by someone being interviewed on Anne Bogel's "What Should I Read Next" podcast, so when I saw it on the shelf at my local library, I decided to give it a shot. I like the idea of the story, but not the execution. The writing style didn't jive with me, so I found myself getting distracted and then missing out on information that I'd have to go back and figure out. I feel like this is a "love it or hate it" type book.
---
The Best of Adam Sharp by Graeme Simsion*
ABANDONED | Fiction
"On the cusp of turning fifty, Adam Sharp likes his life. He's happy with his partner Claire, he excels in music trivia at quiz night at the local pub, he looks after his mother, and he does the occasional consulting job in IT. But he can never quite shake off his nostalgia for what might have been: his blazing affair more than twenty years ago with an intelligent and strong-willed actress named Angelina Brown who taught him for the first time what it means to find—and then lose—love. How different might his life have been if he hadn't let her walk away? And then, out of nowhere, from the other side of the world, Angelina gets in touch. What does she want? Does Adam dare to live dangerously?"
MY THOUGHTS: I read The Rosie Project with my book club, so I thought I would like this novel by the same author. At the minimum, I thought I would enjoy it. Not the case. I ended up abandoning it halfway through because it just wasn't going anywhere. Like Sons and Daughters of Ease and Plenty, I like the idea for the story, but the execution wasn't done well. Nothing really happened in the first half. I felt like I was just waiting the whole time. It was particularly funny or witty. I would just stick with The Rosie Project, if I were you.
---
The Zookeeper's Wife by Diane Ackerman
★★☆☆☆ | Non-Fiction (audiobook)
"When Germany invaded Poland, Stuka bombers devastated Warsaw—and the city's zoo along with it. With most of their animals dead, zookeepers Jan and Antonina Zabinski began smuggling Jews into empty cages. Another dozen "guests" hid inside the Zabinskis' villa, emerging after dark for dinner, socializing, and, during rare moments of calm, piano concerts. Jan, active in the Polish resistance, kept ammunition buried in the elephant enclosure and stashed explosives in the animal hospital. Meanwhile, Antonina kept her unusual household afloat, caring for both its human and its animal inhabitants—otters, a badger, hyena pups, lynxes."
MY THOUGHTS: I added this book to my to-read list after seeing the preview for the movie that came out recently and when I saw it was available on audiobook from my library, I jumped on the opportunity to listen! The stories told were very interesting. Sometimes I had to remind myself that this is a true story! The family is definitely unique and played a part in the resistance during WWII. That being said, the writing style was not very good. It very much read like a history book when I think it would have done better as a historical fiction. I'm definitely going to be watching the movie!
---
Brain on Fire: My Month of Madness by Susannah Cahalan
★★★☆☆ | Memoir
"An award-winning memoir and instant New York Times bestseller that goes far beyond its riveting medical mystery, Brain on Fire is the powerful account of one woman's struggle to recapture her identity. When twenty-four-year-old Susannah Cahalan woke up alone in a hospital room, strapped to her bed and unable to move or speak, she had no memory of how she'd gotten there. Days earlier, she had been on the threshold of a new, adult life: at the beginning of her first serious relationship and a promising career at a major New York newspaper. Now she was labeled violent, psychotic, a flight risk. What happened? In a swift and breathtaking narrative, Cahalan tells the astonishing true story of her descent into madness, her family's inspiring faith in her, and the lifesaving diagnosis that nearly didn't happen."
MY THOUGHTS: This book was recommended to me by a friend of mine when she found out I like memoirs and I finally got around to picking it up! I read this in just a few days, but it probably should have taken me longer to read it because of all the medical information included. Yes, this is a memoir, but Cahalan includes a lot of really technical information about her situation. It wasn't overwhelming, but I will say that I skipped over some of it because it went straight over my head. This memoir is interesting, to say the least. There's some interesting commentary on family dynamic, the way the medical system in America works, as well as friendship. It was good!
---
The Kitchen House by Kathleen Grissom
★★★★★ | Historical Fiction (audiobook)
"When a white servant girl violates the order of plantation society, she unleashes a tragedy that exposes the worst and best in the people she has come to call her family. Orphaned while onboard ship from Ireland, seven-year-old Lavinia arrives on the steps of a tobacco plantation where she is to live and work with the slaves of the kitchen house. Under the care of Belle, the master's illegitimate daughter, Lavinia becomes deeply bonded to her adopted family, though she is set apart from them by her white skin.  Eventually, Lavinia is accepted into the world of the big house, where the master is absent and the mistress battles opium addiction. Lavinia finds herself perilously straddling two very different worlds. When she is forced to make a choice, loyalties are brought into question, dangerous truths are laid bare, and lives are put at risk."
MY THOUGHTS: Finally, a 5-star read! I feel like this month has been such a dud with books. My friend Amber raved about this, so when I saw it was available on my audiobook app, I snatched it up! I loved this book. I was completely immersed the entire time I was listening. The narrator was great, the plot had the perfect amount of twists and turns, it's based on real events and people, and just has a great writing style. I don't know what more to say other than it's a great book! I will definitely be recommending this one to my friends. It would be great to discuss as a book club! I'm going to for sure read the sequel – Glory Over Everything.
---
Nothing to Prove: Why We Can Stop Trying So Hard by Jennie Allen*
★★★☆☆ | Christian
"All too often, we struggle under the weight of life, convinced we need to work harder to prove to ourselves, to others, and to God that we are good enough, smart enough, spiritual enough to do the things we believe we should. In Nothing to Prove, author and Bible teacher Jennie Allen helps us find the freedom to accept that fact that we are not enough, but God is. We can stop striving to be seen, to be known, to matter and instead find our strength and rest in Jesus, who offers more than enough for our every circumstance."
MY THOUGHTS: I was reading this book for quite a long time. As in almost 3 months. Usually when a book takes me that long, it's because I'm savoring it and getting a lot of information. This time, that wasn't the case. It took so long for me to read because I kept forgetting about it, unfortunately. It just wasn't the right book for me at this stage in life, but I gave it 3 stars because I know that it would be really helpful for the right person.
---
That's all for September! Do you have any books I need to add to my list? I'd love to hear your recommendations!