Hey, guys! I'm officially back on the reading train and loving it. One of my goals for the month of May was to read at least five books and I'm hoping to double it (10+ books a month was normal for me at one time). Here are the first five books that I read. Hopefully you find something that piques your interest!
All the Bright Places by Jennifer Niven
★★★★★ | Young Adult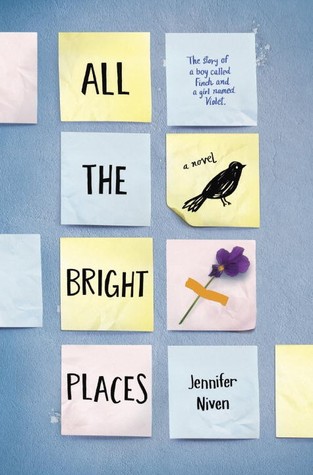 "When Finch and Violet meet on the ledge of the bell tower at school, it's unclear who saves whom. And when they pair up on a project to discover the "natural wonders" of their state, both Finch and Violet make more important discoveries: It's only with Violet that Finch can be himself—a weird, funny, live-out-loud guy who's not such a freak after all. And it's only with Finch that Violet can forget to count away the days and start living them. But as Violet's world grows, Finch's begins to shrink."
WHAT I LIKED: Um, pretty much everything. I love a good YA novel every once in awhile and this did the trick for me. I was totally hooked by the love story between Finch and Violet. It reminded me of being in high school again and navigating through the waters of being a teenager. I won't give you any spoilers, but the ending had me in a puddle of tears.
WHAT I DIDN'T: A lot of YA books are very similar and one could argue that this one is "like all the others" if you look at it at just a surface level. I thought it was unique, but you may think otherwise if you pick it up.
READ THIS IF: You're looking for some nostalgia on your reading list, you love a good adventure, or you need a good cry.
---
The Rosie Project by Graeme Simsion
★★★☆☆ | Contemporary Fiction (book club pick)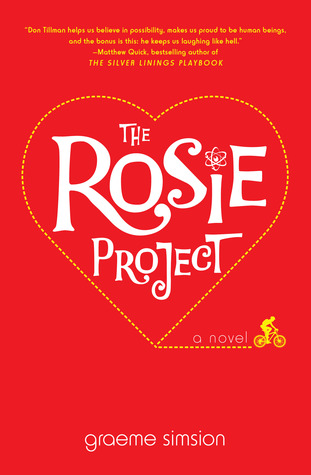 "Don Tillman, professor of genetics, has never been on a second date. He is a man whose lifelong difficulty with social rituals has convinced him that he is simply not wired for romance. So when an acquaintance informs him that he would make a 'wonderful' husband, his first reaction is shock. Yet he must concede to the statistical probability that there is someone for everyone, and he embarks upon The Wife Project. In the orderly, evidence-based manner with which he approaches all things, Don sets out to find the perfect partner. She will be punctual and logical—most definitely not a barmaid, a smoker, a drinker, or a late-arriver. Yet Rosie Jarman is all these things.  An unlikely relationship blooms, forcing the scientifically minded geneticist to confront the spontaneous whirlwind that is Rosie—and the realization that love is not always what looks good on paper."

WHAT I LIKED: My book club was looking for a lighthearted read, and this fits that bill. I flew through it without needing to use a ton of my brain power, which I like sometimes. 😉 I had been reading a lot more "serious" books for awhile and it was a good change of pace. I loved Don's character. He is so lovable and hilarious. I laughed out loud several times!
WHAT I DIDN'T: To me, the plot was pretty predictable. For the most part, I knew how it was going to end. 3 stars for me means I liked it, but it wasn't anything special. I would, however, recommend this to my friends who say they "aren't readers" or someone going on a beach vacation.
READ THIS IF: You want to pass some time on the beach, you need a good laugh, or you need a little dose of love.
---
Love, Luck, and Lemon Pie by Amy Reichert
★★☆☆☆ | Chick Lit
"When Milwaukee-area wife and mother MJ Boudreaux notices her husband Chris seems more interested in the casino than her, she's more bothered that she isn't upset than by her husband's absence. She picks up poker as a way for them to spend more time together—and reignite their marital flame. Although the game doesn't give her the quality time with Chris that she'd hoped, MJ finds she has a knack for it. MJ begins spending more time at the gambling tables and less with her family. After a string of great wins, MJ finds herself in Vegas, attracting the attention of a certain magnetic poker star. But when she's forced to choose between her family and her new exciting lifestyle, the stakes may be higher than she thought and MJ will have to play her hand carefully…or risk losing it all."
WHAT I LIKED: I loved that this book was set in Wisconsin (like Reichert's last novel). I liked being able to place the landmarks and understand the cultural quirks. MJ is very quirky and likable and I definitely liked getting to know her through the story.
WHAT I DIDN'T: I think that the topic of a gambling addiction was taken a little too lightly. MJ starts spending more time at the casino than with her family and that's definitely a problem. I come from an area with a lot of casinos, so it's more of an issue than some people think. The story was just okay. Nothing really grabbed me. It was a cute read, but that's about it.
TRY THIS INSTEAD: I fell in love with Reichert's first novel, The Coincidence of Coconut Cake and it's one of my faves.
---
The Lifeboat by Charlotte Rogan
★★☆☆☆ | Fiction (audiobook)
"Grace Winter, 22, is both a newlywed and a widow. She is also on trial for her life. In the summer of 1914, the elegant ocean liner carrying her and her husband Henry across the Atlantic suffers a mysterious explosion. Setting aside his own safety, Henry secures Grace a place in a lifeboat, which the survivors quickly realize is over capacity. For any to live, some must die. As the castaways battle the elements, and each other, Grace recollects the unorthodox way she and Henry met, and the new life of privilege she thought she'd found. Will she pay any price to keep it?"
WHAT I LIKED: The narrator of this book did a great job. She took a book that ended up actually being pretty boring to me and made it bearable, which is good. Had the narrator been sub-par, I probably would have abandoned it.
WHAT I DIDN'T: I don't remember how this came on my radar, but the synopsis gripped me. It was just okay, though. There really isn't much excitement throughout the book like you'd think. Mostly just descriptions of the same boring days over and over again in this lifeboat. I won't be recommending it to many people.
---
A Homemade Life by Molly Wizenberg
★★★☆☆ | Foodie Memoir

"In A Homemade Life: Stories and Recipes from My Kitchen Table, Molly Wizenberg recounts a life with the kitchen at its center. From her mother's pound cake, a staple of summer picnics during her childhood in Oklahoma, to the eggs she cooked for her father during the weeks before his death, food and memories are intimately entwined. You won't be able to decide whether to curl up and sink into the story or to head straight to the market to fill your basket with ingredients for Cider-Glazed Salmon and Pistachio Cake with Honeyed Apricots."
WHAT I LIKED: Each story was complemented with a recipe of Molly's, which was nice. I didn't make any of them (it was a library book, so I didn't have it in my hands for long), but most sounded delicious! I loved reading about Molly's relationship with her father. It was so sweet and raw and full.
WHAT I DIDN'T: This book didn't go the extra step for me. It was a nice book about food and life, but not a ton more than that. I do plan on reading Molly's next book (Delancey) about opening her first restaurant. I liked it, but didn't love it.
READ THIS IF: You want some new recipes, you enjoy reading about family dynamic, or you love good food.
---
That's my first five reads of the month! I think I'll have just as many by the end of May. Anything I should add to my list?