Happy Friday, friends! I hope you're doing something fun this weekend, whether that be going on a little weekend getaway or sitting inside and getting some reading done! I'm hanging out with my niece and nephew today, so my hands are full. 😉 I started out July with a bang (not just because of Fourth of July!) by reading a ton. I just can't get enough of it! Here's the first five books I read this month. I included affiliate links for Amazon in case you want to try them out for yourself (I get a small percentage of the profit, but it doesn't cost you anything extra).
---
The Impossible Fortress by Jason Rekulak*
★★★★☆ | Young Adult
"The year is 1987 and Playboy has just published scandalous photographs of Vanna White, from the popular TV game show Wheel of Fortune. For three teenage boys—Billy, Alf, and Clark—who are desperately uneducated in the ways of women, the magazine is somewhat of a Holy Grail: priceless beyond measure and impossible to attain. So, they hatch a plan to steal it. The heist will be fraught with peril. Failed attempt after failed attempt leads them to a genius master plan—they'll swipe the security code to Zelinsky's convenience store by seducing the owner's daughter, Mary Zelinsky. It becomes Billy's mission to befriend her and get the information by any means necessary. But Mary isn't your average teenage girl. She's a computer loving, expert coder, already strides ahead of Billy in ability, with a wry sense of humor and a hidden, big heart. But what starts as a game to win Mary's affection leaves Billy with a gut-wrenching choice: deceive the girl who may well be his first love or break a promise to his best friends."
MY THOUGHTS: Oh, this book. I fell in love with the characters right away, which is a huge factor for me in whether or not I like a book. I started reading this when I was doing "walking lunches" at work (gotta get those steps in!), but then couldn't put it down and pretty much devoured it in a few days. There is the perfect amount of adventure, humor (I laughed out loud several times), romance, twists, and turns. The ending was somewhat abrupt for me, but still gets a solid 4 stars. I can't believe this is a debut!
READ THIS IF: You're a child of the 80s, are a self-proclaimed nerd, need a good laugh, or want to reminisce about the high school experience.
---
Tell the Wolves I'm Home by Carol Rifka Brunt
★★★★☆ | Young Adult
"1987. There's only one person who has ever truly understood fourteen-year-old June Elbus, and that's her uncle, the renowned painter Finn Weiss. Shy at school and distant from her older sister, June can only be herself in Finn's company; he is her godfather, confidant, and best friend. So when he dies, far too young, of a mysterious illness her mother can barely speak about, June's world is turned upside down. But Finn's death brings a surprise acquaintance into June's life—someone who will help her to heal, and to question what she thinks she knows about Finn, her family, and even her own heart."
MY THOUGHTS: Another book set in the 80s! I immediately fell in love with this book. Something about the writing just drew me right in. It feels personal, beautiful, and honest. The story is compelling and isn't overdone. I feel like sometimes when death is involved, authors can tend to be a little dramatic, but this felt very real to me. This novel wasn't very plot driven, which is why it lost a star for me. While I was sucked in in the beginning, the middle kind of lost me and then hooked me back in in the end. Overall, a really good read that could speak to a lot of people.
READ THIS IF: Books about family dynamic intrigue you, you are okay with a little bit of mystery, or you love a heart-wrenching story.
---
Heather, the Totality by Matthew Weiner*
★☆☆☆☆ | Fiction/Novella
Estimated Publication Date: November 1, 2017
"The tale of a family and a psychopath."
MY THOUGHTS: Yep, that's all the description on Goodreads says. And really, that's all this novella is about. I actually don't want to get super far into a synopsis because I don't want to give anything away. As you can tell by my one-star review… I didn't like this book. Matthew Weiner is the creator of the TV show Mad Men and I can totally see how this would be a gripping episode of TV. As a novella, however, not so much. It didn't strike me as anything special. The parents are overprotective and privileged. The daughter is a typical teenager. The psychopath is generic. I'm glad this was short because I probably would have abandoned it otherwise. Ya win some, ya lose some. 😉
---
The Grapes of Wrath by John Steinbeck
★★★☆☆ | Classic (book club pick)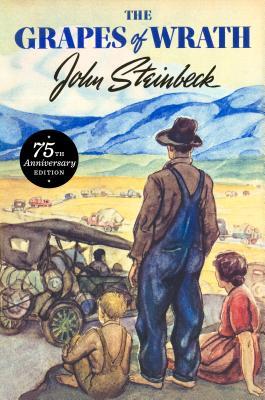 "First published in 1939, Steinbeck's Pulitzer Prize winning epic of the Great Depression chronicles the Dust Bowl migration of the 1930s and tells the story of one Oklahoma farm family, the Joads, driven from their homestead and forced to travel west to the promised land of California. Out of their trials and their repeated collisions against the hard realities of an America divided into haves and have-nots evolves a drama that is intensely human yet majestic in its scale and moral vision, elemental yet plainspoken, tragic but ultimately stirring in its human dignity. A portrait of the conflict between the powerful and the powerless, of one man's fierce reaction to injustice, and of one woman's stoical strength, the novel captures the horrors of the Great Depression and probes the very nature of equality and justice in America."
MY THOUGHTS: This is a re-read for me! I read this my freshman year of high school, so I didn't remember a ton of the plot (other than general stuff), but I remember liking it and I remember writing an essay about it. I ended up keeping my three star review from when I read it originally.
Steinbeck's writing is simple, but beautiful. He has a way of describing setting and characters that really captured me. This book is really depressing and I had to keep reminding myself that the Joad family's story was reality for thousands of people during the Great Depression. Overall, I liked the book and am glad that I re-read it. It's a great pick to discuss with a group!
---
The Good People by Hannah Kent*
★★★☆☆ | Historical Fiction
Expected Publication Date: September 19, 2017
"Based on true events in nineteenth century Ireland, Hannah Kent's startling new novel tells the story of three women, drawn together to rescue a child from a superstitious community. Nora, bereft after the death of her husband, finds herself alone and caring for her grandson Micheál, who can neither speak nor walk. A handmaid, Mary, arrives to help Nóra just as rumours begin to spread that Micheál is a changeling child who is bringing bad luck to the valley. Determined to banish evil, Nora and Mary enlist the help of Nance, an elderly wanderer who understands the magic of the old ways."
MY THOUGHTS: I read this book over my five-day Fourth of July weekend because I just couldn't put it down. This wasn't a fast-paced thriller, but every time I put it down, I couldn't stop thinking about when I could read next because I just wanted to know what was going to happen! Kent did a great job of pacing this novel to get a lot of information in, but not letting the reader become bored. What I didn't like was all of the references to Irish superstitions/lore that weren't really explained. That did make some parts hard to follow. The story is unique and I like that this was based on real events, but I feel like it could have been about 150 pages shorter.
READ THIS IF: You like historical fiction, books about Ireland, and some controversy.
---
That's it for the first part of July! I'm glad that I've been getting a lot of reading time in this month. You can always keep up with me on Goodreads to see what I'm currently reading! The book indicated with an asterisk were given to me from the publisher in exchange for my honest review. All opinions are always my own. I promise!