Affiliate links appear in the post below. They won't cost you anything extra to shop with them, but I will receive a small commission. Thank you so much for supporting My Favorite Adventure (and my gel manicure habit)!
Hey, friends! Another month, another book report for you. I only finished two books in January, but they were good ones. Here's to hoping that you like them too.
---
The Bookshop on the Corner by Jenny Colgan
★★★★☆ | Romance/Books About Books (audiobook)
This book was such a breath of fresh air! It took me quite awhile to listen to it because I was about halfway through it when I went into labor, but I'm kind of glad that it took a long time because I got to savor it. Nina is a literary matchmaker who loves pairing people with the perfect book. When she is laid off her job, she buys a van, fills it with books, and drives it to a small village to start over and sell her books. There's romance and laughs and great accents if you listen to the audiobook. I didn't like that the ending left me hanging, which is why it loses a star. Otherwise, so good!
---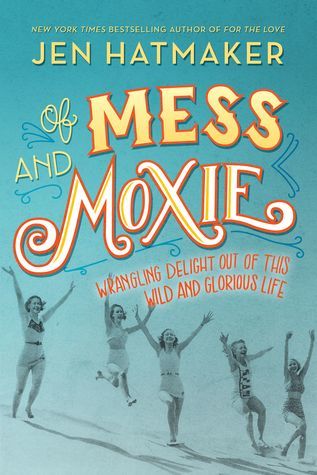 Of Mess and Moxie by Jen Hatmaker
★★★★☆ | Christian
This is my first Jen Hatmaker book and I can totally see the hype. I really loved this collection of essays and definitely plan to pick up others from her! Jen has a way of writing that feels like you're talking with a friend. She isn't afraid to talk about the hard stuff or the weird stuff or the controversial stuff. She is apologetically herself and I love that. I particularly enjoyed her chapters on "how to do stuff." I was literally laughing out loud while reading them. It loses a star because a couple of the essays just weren't that interesting to me. Overall, really good.
---
The Rules of Magic by Alice Hoffman*
Magical Realism/Fiction (abandoned)
I've read a couple others of Hoffman's books and loved them, but unfortunately that was not the case with this one. This book is about a magical family living in NYC who are cursed by love. Very interesting concept, but for some reason I just could not get into it. I made it about halfway through and that took me forever, so I finally decided to just let myself stop because it just wasn't getting better. It moved really slowly and I couldn't fall in love with the characters. I would recommend her book Faithful instead.
---
Not too many for January, but I'm getting back into a reading rhythm slowly. Choosing reading over my phone has been hard lately for whatever reason, but I'm trying my best!
That's it for December! Have any books I should add to my list?
Books indicated with an asterisk were given to me free of charge in exchange for my honest review. All opinions are always my own. Promise.