Hey, book reading friends! This is my very first post trying out this new format for my book reviews and I think you're going to like it. In 2016, I only shared my full thoughts on my top 3 books of the month, but now I'm sharing more details on every book that I read. Because I read so many books, these posts would be so long if I waited a full month so I'm going to share whenever I have three books completed. I hope you like it! Here's my first three books of January:
---
The House Girl by Tara Conklin
★★★★☆ – Historical Fiction
"Two remarkable women, separated by more than a century, whose lives unexpectedly intertwine… Alternating between antebellum Virginia and modern-day New York, this searing tale of art and history, love and secrets explores what it means to repair a wrong, and asks whether truth can be more important than justice."
WHAT I LIKED: (1) The two perspectives. Sometimes when a novel is written with one foot in the past and the other in the present, it can feel disjointed and awkward, but that's not the case here. Each point of view complemented the other and flowed beautifully. I was completely sucked in. (2) The relationships. Specifically between Lina and her father in NY and Josephine and her "Missus" in VA. Both felt very real to me and only enhanced the main plot line instead of taking away from it.
WHAT I DIDN'T LIKE: (1) Lina is a lawyer working on a class-action lawsuit that seeks reparations for descendants of former slaves and that just seems very unlikely to me. (2) During the reparations case, she is tasked with finding a descendant of a very specific slave and it happens to be someone that she has just met. Just a little too convenient for me.
I RECOMMEND THIS IF: You enjoy Jodi Picoult's writing style, you are a fan of historical fiction in general, and/or you want to get sucked into a storyline and stay up late reading.
---
 Chasing Slow: Courage to Journey Off the Beaten Path
by Erin Loechner
★★★★★ – Memoir/Christian Life
"In Chasing Slow, Erin Loechner of Design for Mankind turns away from fast and fame and frenzy. Follow along as she blazes the trail toward a new-fashioned lifestyle—one that will refresh your perspective, renew your priorities, and shift your focus to the journey that matters most. Through a series of steep climbs—her husband's brain tumor, bankruptcy, family loss, and public criticism—Erin learns just how much strength it takes to surrender it all, and to veer right into grace."
WHAT I LIKED: Can I say everything? Erin has a beautiful way with words that makes the everyday interesting. This wasn't like a memoir that sticks to a very rigid timeline with a lot of detail, but flowed through her story easily. I highlighted and underlined a ton and loved the actual design of the book.
WHAT I DIDN'T LIKE: I honestly can't think of a single thing.
I RECOMMEND THIS IF: You're feeling overwhelmed with keeping up. If you feel like you need a breath of fresh air. If you want to start 2017 with a lot of wisdom and even more grace.
I was blessed to receive an advanced copy of this book.
My opinions, as always, are 100% my own.
---
 The French Chef in America by Alex Prud'Homme
★★☆☆☆ – Biography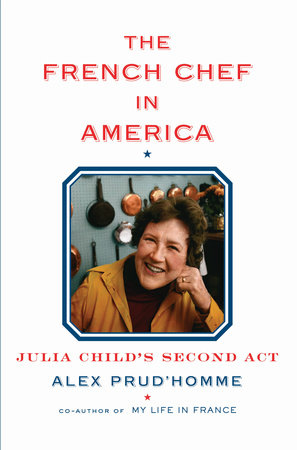 "The enchanting story of Julia Child's years as a TV personality and beloved cookbook author, a sequel-in-spirit to My Life in France–by her great-nephew. Julia Child is synonymous with French cooking, but her legacy runs much deeper. Now, Alex Prud'homme, Child's great-nephew and My Life in France co-author, vividly recounts the myriad ways in which she profoundly shaped how we eat today."
WHAT I LIKED: (1) I love Julia Child. She is just so quirky and passionate that I love reading about her. (2) Prud'Homme's writing voice. He has a very methodological way of writing that makes this biography easy to follow, but it's still very personable.
WHAT I DIDN'T LIKE: I enjoyed the book that Prud'Homme co-authored with Julia (My Life in France) MUCH more than this one. I feel like the first half of this book was a synopsis of MLIF and I found myself very distracted while listening to this audiobook. Had I only read this book, though, I may have enjoyed it more.
I RECOMMEND THIS IF: You like reading foodie books. If you have to choose, though, read My Life in France instead.
I received this book free of charge from Blogging for Books in exchange for my honest review.
---